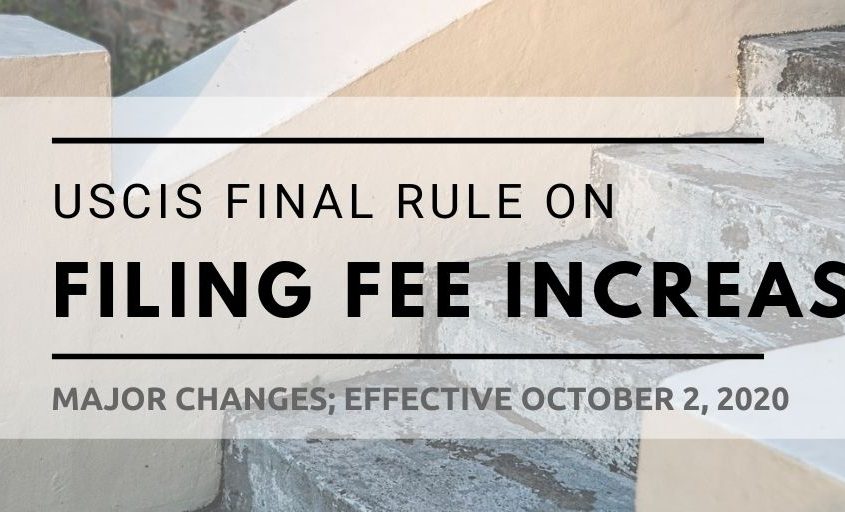 ​
Coronavirus pandemic has caused the United States Citizenship and Immigration Services (USCIS) to face a financial crisis.
As early as May of this year, a USCIS spokesperson informed the United States government that it needed a cash bailout of $1.2 billion to meet its operational costs. The agency found that fewer and fewer applicants were filing applications and petitions with USCIS which created a massive revenue shortfall for the agency.
To keep itself afloat, the agency said it would be preparing to increase filing fees for certain types of applications and petitions. On average, the filing fees for immigration and visa applications will increase by 20% but the price increase is not increasing uniformly, and for many immigrants the cost of coming to America could jump by well over $1,000. The updated fees are effective October 2, 2020, and any application, petition, or request postmarked on or after this date must include payment of the new, correct fee.
In addition to the fee increases, the final rule will expand the Premium Processing timeline from 15 calendar days to 15 "business" days, thereby increasing processing to approximately three weeks.
To encourage electronic filings of certain applications available online, including requests to renew a permanent resident card (green card) and naturalization applications, USCIS will offer a $10 filing fee reduction for applications submitted online.
Immigrant Visa and Adjustment of Status Applications (Green Card Applications)
USCIS is "debundling" several forms in the green card application process.
Applicants previously paid one fee ($1225) for all the forms but will now have to pay for each form separately. This includes a request for work authorization and travel documents that people file so they can work and travel while their application is being processed. Under the new scheme, the total fee of an adjustment of status application package more than doubles to $2,270, and applicants will be required to pay fees of $550 and $590, for EAD and AP renewal applications, respectively.
Presently, children under the age of 14 benefit from a reduced adjustment of status fee of $750 if they apply with a parent. This benefit will cease to exist under the new rule, requiring these young applicants to pay the new fee of $1,130.
Naturalization Applications
The financial burden of becoming a U.S. citizen is now especially high. USCIS will be increasing the total cost of a naturalization application by over 80%. Online naturalization applications will now run $1,170, up from the previous price of $640.
USCIS is also eliminating almost all fee waivers that it previously provided for low-income immigrants seeking citizenship. Once the rule goes into effect, everyone will have to pay the full fee with few exceptions. Requiring everyone who wants to become a citizen to pay $1,170 will put citizenship out of reach for many.
Employment-Based Nonimmigrant Filings
The final rule separates fees for each visa classification currently filed on Form I-129, Petition for Nonimmigrant Worker, with a disproportionate effect on some visa categories, such as the L-1 visa classification, which will increase by 75%. To facilitate these changes, USCIS will publish new forms for the following visa categories: CW-1, E, TN, H-1B, H-1B1, H-2A, and H-2B. USCIS will provide a grace period of up to 60 days during which time both the previous and new versions of the updated forms will be accepted, provided that the new fees accompany the form.
USCIS will impose much higher fees on companies with more than 50 employees that have at least 50% of their workforce in H-1B and L-1 status. Presently, the $4,000 and $4,500 fees for H-1B and L-1 petitions, respectively, are required only for initial filings and change of employer requests. The new scheme will impose the fee for extensions when the fraud prevention and detection fee is not collected, which means, in practice, the fee will be required whenever an employee's status is extended.
U.S. employers with foreign national employees should review upcoming expirations, and plan to file extension petitions by October 1, 2020 whenever possible. Moreover, if any petitions need to be amended due to upcoming job changes, employers should consider filing Amendment and Extension petitions by October 1.
USCIS is expected to issue new forms by October 2, 2020, to accompany the new fees. If you have any questions about the fees, Murray Osorio attorneys are available to assist you.